April 2, 2013
Magda Abu-Fadil
One can't keep track of multiple events on the dizzying Egyptian media landscape.
But Bassem Youssef and his run-ins with authorities over charges of insulting President Mohamed Morsi and defaming Islam take top billing.
He is also accused of "spreading false news with the aim of disrupting public order" on Egypt'sCBC TV.
His witty punchlines and clips of Morsi's hilarious or dictatorial statements, and the president's linguistic stumbles by mixing rickety English with Arabic are legend.
In one sketch Youssef airs footage of Morsi in Germany incoherently and inarticulately explaining he did not want a "hadara (civilization) versus haradat okhra (other civilizations) and not against."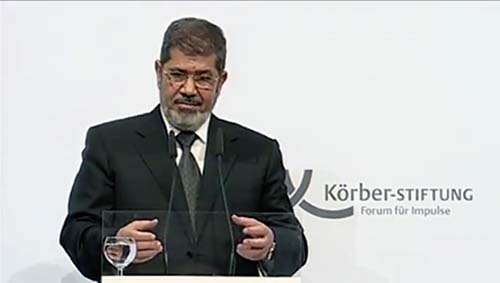 Screen shot of "hadara versus hadarat okhra and not against"
Youssef deadpanned and a picture of a besotted actor appeared on the screen near him. The caption read: "Is this English, Morsi?"
The video clip went viral.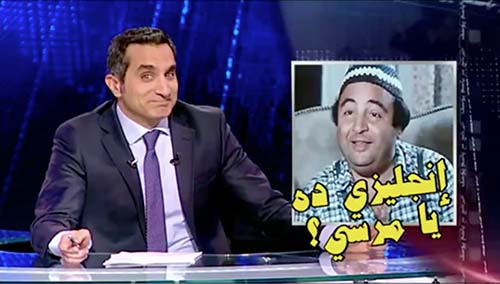 Screen shot of "Is this English, Morsi?"
In another famous segment, Youssef mocked Morsi receiving an honorary doctorate from a Pakistani university and the ceremonial cap and gown the president wore by himself donning a duplicate oversize hat and gown on the show.
Youssef wore the same oversize hat to a hearing at the prosecutor general's office.
Youssef, a practicing Muslim, has often said extremist Islamic preachers and self- proclaimed defenders of the faith were distorting his religion.
He has targeted the ruling Muslim Brotherhood's contradictions and fear mongering against the U.S. and Israel with actions that spoke louder than words.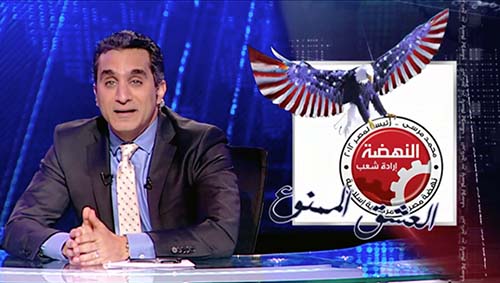 Screen shot of Youssef mocking the Muslim Brotherhood's relations with the U.S.
The heart surgeon-cum-TV satirist's scathing humor, his arrest, his release on bail, and the cyber fanfare it's created in less than a week probably broke celebrity records.
His tweets before his detention, during his brief incarceration and following his release show he was unbowed. Here's a sampling:
The order to detain is correct. I'm going to the prosecutor general's office tomorrow, unless they do me the honor of sending the box (equivalent of the Black Mariah vehicle) today and save us the hassle of transportation. (The prosecutor general is a Morsi appointee.)
We're a few minutes from the prosecutor general's office. With this traffic we could reach Morocco.
Are you coming to testify or to clown around? No sir, I'm coming to clown around. An inspiration for tomorrow's investigation.
Folks, the best reply to this unbridled attack on liberties is to "unfollow" Morsi so that I can transfer him to "followers." What an earth-shattering reply.
The support extended to Lebanon where journalist Johaina Khaldiya wrote a piece in Al Modon entitled: "Long Live Clowning" and said the entire Arab world needs someone like Bassem to uncover through satire what hollow rhetoric the powers-that-be dish out.
On his release he was engulfed in a sea of supporters carrying signs that read "We Are All Bassem Youssef." Others said, "I'm in solidarity with Bassem Youssef."
Even Egyptian Islamists supported the satirist and accused Morsi of being the media's enemy, adding that going after Youssef demonstrated the regime's stupidity.
According to Mohamad Benaziz who wrote in Assafir newspaper of Lebanon, Youssef surpassed media veterans by dissecting the situation in post-revolution Egypt.
He diagnosed the economic crisis as "bankruptcy, collapse, wobbly joints, a bleeding economy."
The satirist and his team have thanked Morsi for providing their show "Al Bernameg" (The Program) with ample fodder through his every controversial utterance, thereby cutting their production costs and staff expenses.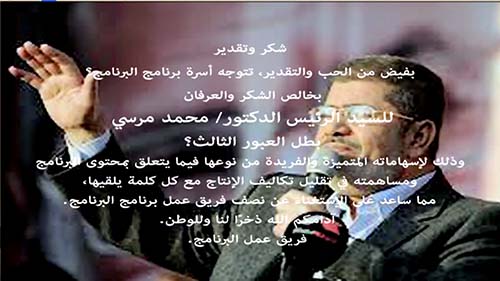 Screen shot of "Al Bernameg's" thanks to Morsi
Youssef's antics and defiance landed him an exclusive interview on CNN's "Amanpour" program on April 1 during which he described the charges against him as dating back to the Inquisition.
He got hilarious kudos on "The Daily Show" hosted by Jon Stewart, who Youssef is supposed to emulate, with a backdrop of Morsi's picture and a caption reading "Viva Hate."
The sub-headline reads: "In an effort to address rising unemployment and rampant sexual violence, Egyptian President Mohamed Morsi cracks down on satirist Bassem Youssef."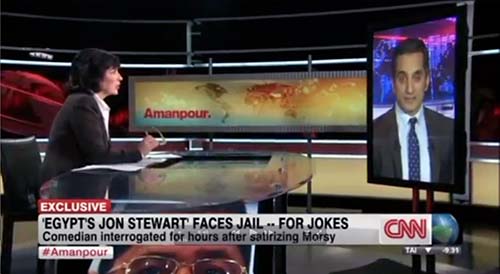 Screen shot of Bassem Youssef on CNN's "Amanpour" show
Youssef's biting jokes are a reflection of Egyptians' well-known sense of humor to overcome adversity.
Adversity has been aplenty since the revolution toppled former president Hosni Mubarak, and the Muslim Brotherhood has made no bones about its total aversion to criticism and press freedom.
But satire helps shatter taboos wrote Sawsan Al Abtah in the daily Asharq Al-Awsat, citing a number of Arab authors who had rattled cages through their works.
"It's no exaggeration that Youssef's 'Al Bernameg's' fate will determine the fate of liberties in post-revolution Egypt," opined Elias Harfoush in the pan-Arab daily Al Hayat.
Arabian Business magazine lists Youssef as one of the Arab world's 500 most powerful people.
The greatest danger is if people give up and don't fight for their rights, Youssef told the French online news outlet Rue 89 in January.
In a Foreign Policy Magazine piece entitled "Egypt's public relations disaster," H.A. Hellyer wrote that one lawyer estimated the number of lawsuits filed against those insulting the president during Morsi's first 200 days in office to be higher than Mubarak's entire 30-year reign.
In a pre-April Fool's prank, the Karl reMarks site headlined a piece "Egypt launches ambitious campaign to 'end humour' by 2018."
"Modelled after the hugely successful 'End Poverty' global campaign, the initiative will aim to eliminate humour, satire and joke-telling from Egyptian society within a tightly-controlled five-year plan. Smiling will also be frowned upon, even though it won't be strictly prohibited," it said.
Who said of politics, "If you can't stand the heat, get out of the kitchen?"